Our Team: 10 Questions with Aubrey Wasilewsky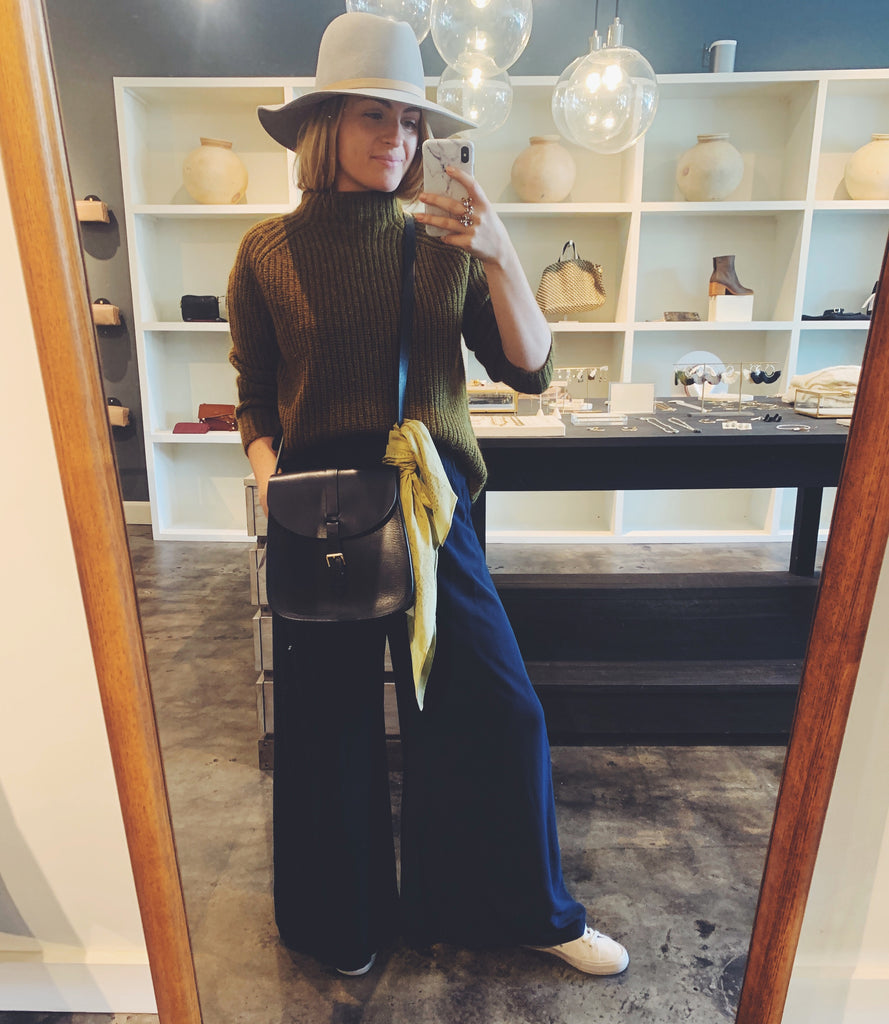 When it comes to understanding our Southern customer, who they are, what they like and how they dress, we defer to our much loved Atlanta operations manager, Aubrey Wasilewsky. She's spent half of the last decade creating outfits that make our customers look and feel their best.
How would you describe your personal style?
This has always been a hard question for me to answer as I love so many different styles, and it really depends on my mood and the season. I love unusual pieces that may have an asymmetrical element or a unique silhouette. A monochromatic look is always a go-to for me as well. I enjoy pairing something super classic with a funkier piece to create a totally one-of-kind look. 

What gets you moving each day?
I would say my pup, Arnold. If I don't have time (or the motivation) to work out, we never miss our daily walks around our neighborhood in Virginia Highlands. 


I know Atlanta is your home, born and raised. what can you tel us about this city that most people don't know?
This is a tough one! I think one thing some might not know is we have tons of hidden trails all around the city. While most people gravitate towards our beautiful parks and the belt line, my husband and I love spending our Sundays on various hiking trails that often end at a creek or the river. 

How did you discover your interest in fashion?
I have loved fashion my whole life. The interest probably sparked from watching my Mom get dressed when I was little. It has always been a common interest of ours and large part of our relationship. In high school, I began to explore the idea of it becoming a career and have been lucky enough to make that a reality.

What is the one thing in your closet you wear every week?
Currently, my CP Shades cream hoodie. It is the coziest, oversized sweatshirt. However, during a more normal week where we aren't stuck at home… I would say my white Melissa platform sneakers from last season! All that know me, know I love a funky shoe and they go with everything!
You have such a close relationship with our customers in Atlanta, what makes them so special?
Our customers are beyond special. I have been at River Mint since day one and have been lucky enough to create amazing relationships with many of our customers. They are loyal, strong, and creative women (+ a few men!) who have amazing style! The community we have built here in Atlanta is truly one of kind and I can't wait to get back to the store and see all of them very soon!


Your top 5 favorite things in the store this season?
This season's collections are all unbelievable, amazing prices and styles. My top five would be:
1. Monica Cordera Waist Bag Trousers
2. The Camden Jacket by Boyish
4.The Semeli Sandal by Mythologia
5.The Selah Denim Dress by Elaine Kim
 
What was your best travel experience?
I would say it is a tie between studying abroad in Paris and my recent trip to Greece. Paris will always be one of my top destinations, I love the history of the city and the fashion, food, people…What's not to love? Greece was one of the most beautiful countries I have been to. We were fortunate enough to spend a couple of weeks there and visited many different areas. We spent a week in a small village outside of Crete and it was magical to say the least.
If you could invite one person to dinner who would it be?
I secretly hate this question, how do you choose?! Maybe Anna Wintour, I recently watched the documentary about her and she has lead such an interesting and full life. 
Tell us one thing about yourself we don't already know.
Something our customers might not know is that I have quite a large family. I am the youngest of four kids, and now that we are all married and having children, my immediate family totals 14! 
xx. RMF